All-inclusive meets choose your own adventure
Whether you need a relaxing break, or want a week of adventure, Keats has you covered.
Let us take care of all the details (like transportation and meals), while you spend time with your family on an island getaway on the Sunshine Coast. Make each day your own, choosing from a variety of activities, exploring amazing West Coast nature on the island, or just finding a peaceful place to slow down.
Choose your cabin style, spend the week with your family or as a few families together, and we will take care of all the rest for you.
We can't wait to welcome you to Keats this summer!
Dates
We have 8 fun-filled weeks of family getaways for you to choose from. Getaways start on Monday, and finish on Saturday each week.
Dates chart
| | | |
| --- | --- | --- |
| Week 1 | July 5 – 10 | Register now |
| Week 2 | July 12 – 17 | Register now |
| Week 3 | July 19 – 24 | Register now |
| Week 4 | July 26 – 31 | Register now |
Rates
Experience Keats as a family like never before. With our easy all-inclusive pricing, it's easy to organize. Start dreaming of how you will spend your week away.
Per person rates (Adult, Youth, and Child) include return transport to Gibsons, all meals, and all activities. We will even give you tips about some of our favourite places on the island you can explore with your family!
Accommodation rates (Pilot House or Cluster Cabins) are per week, not per person. When you register, you only need to pick a cabin once.
**Prices do not include GST**
Choose your date and the accommodation that fits your needs, figure out who is coming with you this summer and we'll take care of the rest.
Rates chart
| | |
| --- | --- |
| Per person rates (per week) | |
| Adult (13+ years) | $460.00 +GST |
| Youth (3-12 years) | $295.00 + GST |
| Child (2 years and under) | $0.00 + GST |
| | |
| Accommodation rates (per week) | |
| Pilot House Cabin (6 people) | $700.00 + GST |
| Cluster Cabin (14 people) | $850.00 + GST |
Book now to join the fun!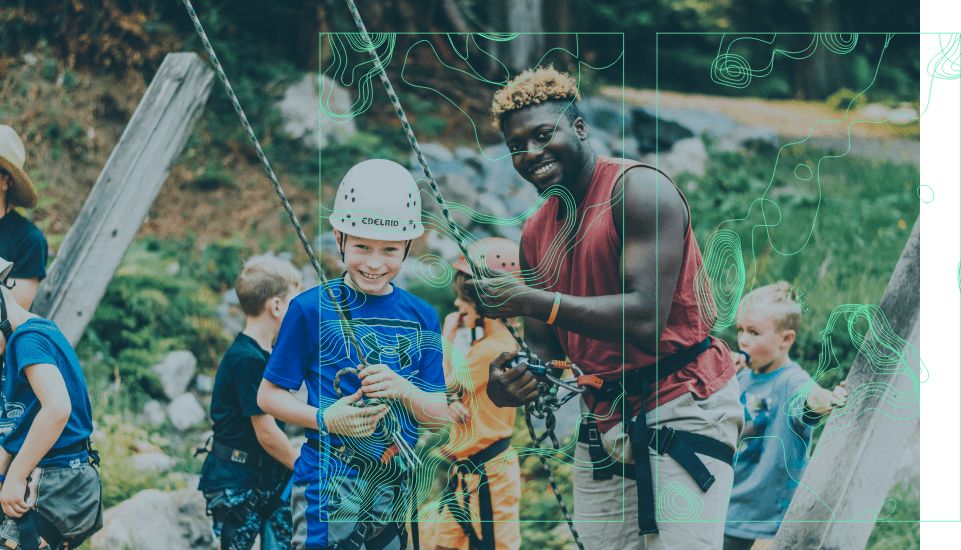 Your family vacation, your way.
This isn't your typical family camp where your day is determined for you and everything is programmed. Instead, YOU decide what each day will look like for your family and how you want to spend your time.
Wake up and head for a great breakfast to start the day. Make it a family trip to our waterfront to try tubing, or wander off camp property to explore the island's beaches, hikes, or trails.
After a full morning, it's time for a quick break to grab lunch, and then an afternoon of fun. Whether you want to play a round of frisbee golf, scale the climbing wall, or even just grab a couple snacks in Mariners Inn and find a shady tree to read under, the island is your playground.
After dinner, wind down with a walk to Campfire Rock, hanging out on the Boardwalk with friends, or enjoying the view across the water from the front field, before heading back to your cabin to sleep, dreaming of what you will do tomorrow!
Family Activities
Whether you love water or land (or even both!), we have lots of activities to choose from.
Try something new, or come back and enjoy an old favourite.
More ways to join the fun!